COMMANDING OFFICER
Biography
Lieutenant Colonel Eugene Engyel, CD
Commanding Officer: 1982-1988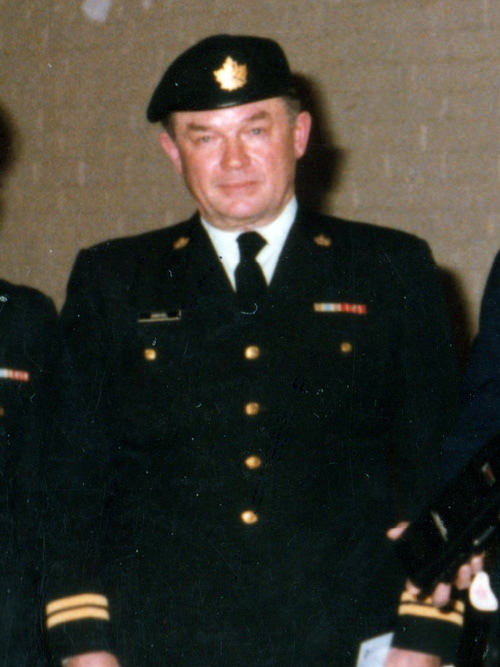 Captain Eugene Engyel was born in Hungary in 1928. Emigrating to Canada 1950,Captain Engyel joined the Canadian Army in March 1950. In a career spanning 28 years,Captain Engyel served in Canada and overseas as an NCO with the Royal Canadian Armoured Corps in the following Regiments: Royal Canadian Dragoons, Fort Garry Horse, Lord Strathcona Horse and the 8th Canadian Hussars. Overseas postings included the UN forces in Egypt 1957-58) and Canadian Forces in the Federal Republic of Germany (1962-65 and 1969-73). Postings in Canada included Petawawa, Calgary, Borden and Gagetown.
Captain Engyel commissioned in 1980 as Second-Lieutenant in the Cadet Instructor List (Land). He held the positions at the corps level as Training Officer (4 yrs) and Corps Commanding Officer (6 years).
During the summer months, Captain Engyel was active with summer training and exchanges. He served as:
Conducting Officer for Army Cadet Exchanges to Germany (1981, 1985)
Conducting Officer for German Youth to Canada (1980, 1982, 1983, 1984)
Company Commander for Cadet Leader Instructor Course at CFB Petawawa (rank of A/Maj) (1986, 1987, 1988, 1989)
Promoted to the rank of Major 1 Aug 1990, Maj Engyel held the position of Area Cadet Liaison Officer for Eastern Ontario. On 1 Feb 1992, Major Enygel received his final promotion to Lieutenant-Colonel and retired from the Canadian Forces later that same year.
Suddenly at his home in Petawawa on Saturday, 7 Aug 1999, in his 72nd year, Lieutenant-Colonel Engyel passed away. He was survived by his wife Clara.