COMMANDING OFFICER
Biography
Captain W.A. (Al) Tobio, CD
Commanding Officer: 1988-1994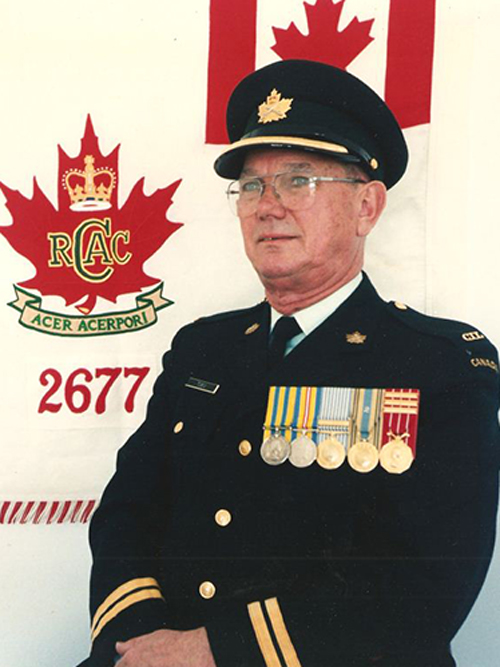 Captain Tobio was born in Hamilton, ON in March 1931 and began his military career in 1945 with a brief stay with a Hamilton Air Cadet Squadron.
He joined the Argyle and Sutherland Highlanders Regiment (Pl) Militia in May 1950, until he joined the Regular Force in November 1950.
He left for Korea in April 1951 with the 25 Field Ambulance Royal Canadian Army Medical Corps (RCAMC), as an ambulance orderly. Upon his return, he was posted to Headquarters Central Command, Oakville.
In 1953, he transferred from the RCAMC to the Royal Canadian Army Service Corps (RCASC) Camp Borden. In April 1961 he was posted to 56 Transport Company Rafah, Egypt as the Transport Sergeant and served there until April 1962. From April 1962 to 1975 Capt Tobio was posted to several Transport Companies including 2 Field Transport Company, RCASC Camp Borden, 2 Company RCASC (Static), Lakeview, ON and Headquarters Central Command as the General Officer Command's (GOC) driver from 1967-1970.
He was posted to Hamilton CFRB 1 – HMCS Star as NCO IC of the Transport Section from there to Hamilton Militia District Headquarters on Regular Support Staff. In 1975 he was posted to 2 Service Battalion, CFB Petawawa, and spent the summers as Militia Training Support as CFB Petawawa Area Rank and Trade School (ARTS).
In 1976, he was deployed to Montréal for the Olympic Games, transporting guards and athletes to sports events. In 1977 he was posted to SSF HQ & Sig Sqn Support Troop as Transport Controller. He retired from that position and the Regular Force in May 1983.
The same year he started several summer Class "B" contracts with the Militia and Cadets. In September 1983, Mr. Tobio joined 2677 Royal Canadian Army Cadet Corps in Pembroke and was commissioned to Lieutenant. He was employed as the Supply and Training Officer and promoted to the rank of Captain on 19 September 1985.
In 1985, he was employed as Training Officer at the Army Cadet Camp Petawawa. In 1986 he was 2IC of Alpha Company, Cadet Leader Instructor Course (CLIC). From 1987 to 1989 he was Company Commander as an Acting Major at the Army Cadet Camp, CFB Petawawa and in 1990 at Ipperwash.
Captain Tobio assumed command of 2677 Royal Canadian Army Cadets in 27 March 1988 and relinquished command to Captain R.M. Beaune, MMM, CD on 13 March 1994.
Catain Tobio very proudly wears the Korea Medal, Korea Voluntary Service Medal, UN Korea Medal, UN Egypt, and CF Decoration with three clasps representing 42 years service. He is in his 44th year of service He has been a Legion member for 26 years. He has also been the past President and is current Treasurer for the Korea Veteran Association Unit 38.
Captain Tobio and his wife Janet lived on a hobby farm outside of Westmeath where they have a small an animal boarding kennel.
After retiring from the Canadian Forces, Captain Tobio continued to serve the army cadet program by volunteering as an executive member on the Army Cadet League of Canada (Ontario) board. He also served as Zone Liasion Officer for Zone 11 (Arnprior, Petawawa, Pembroke, Ottawa).
Suddenly, at his home on 13 March 2012, Captain Tobio passed away at the age of 81.